Click to Watch Roberta Mittman on CBS Health Watch!
Are you ready to…
to be free of sensitivities that are causing you discomfort?
discover subtle imbalances that compromise your overall wellbeing?
use holistic,cutting-edge techniques to scan for possible sensitivities?
find natural ways to ease existing allergies without medication?
find out what could be holding back progress in any area of wellness?
If you answered yes, then you will be pleased to learn that there are techniques that are able to provide you with relief, wellness, and balance in holistic, innovative, and natural ways.
Natural allergy elimination is a non-invasive method of achieving freedom from sensitivities and the symptoms that they can cause. Commonly addressed conditions include:
sinus congestion
hives
weight gain and bloating
hormonal imbalances
Modalities used to alleviate these conditions include:
NAET (Nambudripad's Allergy Elimination Technique)
BioSET
NMT (Neuromodulation Technique)
JMT (Jafee-Mellor Technique)
BRT (Body Restoration Technique)
Applied Kinesiology or Muscle Testing
Acupuncture
And . . .
Electrodermal Screening, a state-of-the-art computerized technology Roberta uses to identify sensitivities to thousands items and substances, such as:
foods
bacteria, molds, viruses
chemicals
fabrics
animal dander
weather conditions
pollens
environmental toxins
vitamins and supplements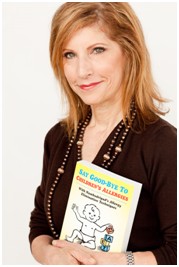 Roberta Mittman, L.Ac. at the Park Avenue Center for WellBeing, is very comfortable with working with highly "sensitive" patients who feel that they are "allergic" to just about everything…or no one can seem to find out what is causing troublesome symptoms. She systematically looks for the underlying causes of conditions to try to give the body a different message in dealing with possible "invaders".


Here's the plan…
Step One: Make your initial appointment
…by calling the Park Avenue Center for WellBeing at 212-686-0939.
At your first appointment your history is discussed in detail as well as how your condition affects or affected your life. If desired, make a list of current medications and supplements-or even better, bring them in with you to test. Usually included with this consultation is a bioenergetic scan and your first treatment.
Step Two: Get Scanned
Roberta is on the lookout for possible sensitivities using computerized electrodermal screening. The results: a personalized plan begins to take shape that lays the groundwork for future treatments. The Biomeridian system, which is non-invasive and informative for children and adults alike, reveals often overlooked variables-and surprises– to be considered in one's treatment. For example, imagine finding a possible cause for troublesome sensitivities in a food you eat everyday!
Step Three: Treatment
Using the modality of your choice, or the one that Roberta has selected for you, each substance, category, or issue is addressed. Gentle acupuncture or acupressure helps to balance the body and "lock in" the treatments while eliminating the body's undesirable response to these items or substances. A normal energy flow in the presence of allergens is encouraged and restored.
Step Four: Continue the balancing process
…with patient-tested supplements that can serve as optional additions to your program. Designed to address your particular condition, they include vitamins, homeopathics, herbs, gentle detox formulas, and her signature "acupuncture to go", all carefully tested and monitored help you achieve the balance and relief you want and need.
To make an appointment to treat your allergies holistically, contact Roberta Mittman today … and get ready to take charge of your life.